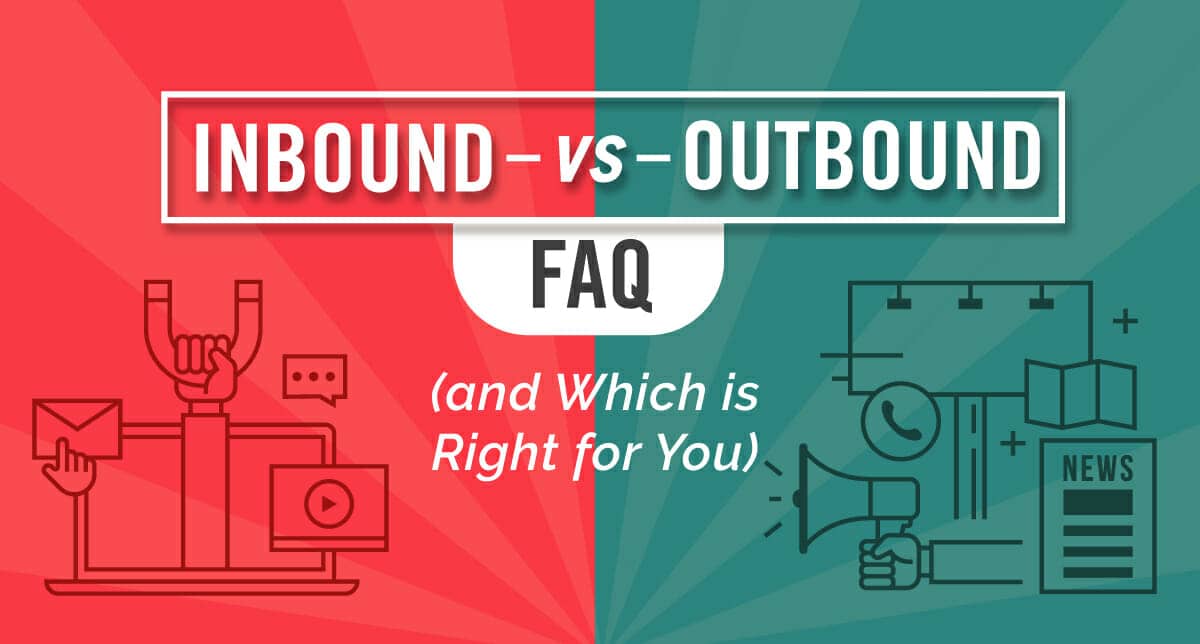 Inbound or Outbound: Which is Actually the Fastest Path to Sales?
That's the age-old question we posed in our recent webinar debate, where we asked two experts to battle it out on whether (and when) to use inbound, outbound, or both.
We get asked about the merits of inbound vs. outbound tactics all the time and received a ton of great questions in preparation for the webinar, so we decided to share some insight into the most frequently asked questions.
Want to watch our experts Natalie Nathanson, CEO of Magnetude, and Seth Kinney, VP of Global Sales at Inside Sales Solutions, duke it out? Check out the Inbound or Outbound webinar.
—-
Frequently Asked Questions
1. What's the difference between inbound and outbound marketing and sales?
Inbound and outbound are sales and marketing methodologies used to proactively generate leads and create a pipeline.
Inbound is the process of using your company's message to attract prospects to your business. Inbound involves creating content and experiences that potential customers might find valuable, making sure they can find the content, and allowing them to start a conversation with you.
Outbound is the process of using proactive outreach to communicate your company's value to prospects. Outbound identifies prospects and pushes information to them that they might find helpful in order to start a conversation.
Both inbound and outbound tactics can be used in both sales and marketing. Here are some examples:
Inbound usually involves a set of activities that all need to work together to be successful, where with outbound, you can sometimes focus on just one tactic, such as cold calling, and still have it work effectively.
2. Do inbound or outbound marketing programs produce higher quality leads?
The short answer: it depends. Inbound and outbound can both produce high-quality leads, depending on your definition of lead quality—the best titles, the biggest deal, the shortest sales cycle, etc.
Outbound brings quality leads by targeting and researching contacts prior to outreach—you know that the individual that you're working with is the right contact at the right organization based on demographic information. You can think about outbound like fishing with a spear (versus a net): You're looking directly at the fish that you want to catch. Every lead created is exactly what you want in your funnel. However, in terms of the sales acronym BANT (budget, authority, needs, and timeline), outbound only ensures so much. A lead might be the right title at the right company, and even be willing to get on the phone with you, but there's no guarantee that they're in the market to buy or have done their research.
Inbound typically brings in a higher volume of leads of varying quality (the "net" tactic in our fishing analogy)—you can target the right people as best as you can, but others may also find and be drawn in by your message. However, when done correctly with the right message and offer, inbound can attract leads who have legitimate interest in your offering—and potentially are even signaling their readiness to make a purchase decision. They have reached out to you, and they're doing so for a reason. To attract high-quality leads who are likely to close a deal quickly, you need to choose the right content or offer that signals purchase intent.
Ultimately, the two should work in tandem for the best lead quality. For example, use inbound tactics to bring in qualified leads who are thinking about making a purchase, then employ outbound techniques to try to move them down the funnel. Or use outbound outreach to help test the messaging and targeting for a new market, then optimize inbound to attract leads with the right content.
3. Which is less expensive to design, implement, and run: inbound or outbound marketing and sales?
In the short term, outbound is usually less expensive, especially when you find a partner or a resource to help you get started. It takes very little setup to start outreach, but in order to get results, you have to keep putting gas in the car—if you stop outreach, your pipeline dries up. Scaling outbound sales is hard.
Inbound, on the other hand, takes a lot of resources to implement, but is typically less expensive in the long term. While there are ways to get started quickly, ideally, you're building an engine that will continue to drive leads to your business with limited effort. The benefits of inbound compound over time, making it the more cost-effective methodology in the long-term.
However, that certainly doesn't mean you can set it and forget it. With both inbound and outbound, one of the most important points is that you need to refine and improve over time. Try different tactics and messages, see what works, and optimize your process, program, and content to suit your budget and your business.
4. What do I need to have in place to get started with inbound and outbound marketing programs?
Building an organic inbound engine takes time, but to get started, your website is one of the most important assets that will set you up for success:
The messaging and design should reflect exactly who you are.
You should follow search engine optimization (SEO) best practices—both on the backend of the site and in your written content.
Your site should be set up to drive conversions, with clear, well-placed opportunities to sign up for your email list or download a gated resource.
This all comes together to drive more leads: You're signaling the search engines to show your pages, then you're using the right content and the right conversion opportunities to bring users down the right path.
In addition, quality content on and off your website will help drive the right people. Employ a mix of social media, social selling, and PR to support inbound and drive traffic to your website. Especially at the beginning, before your inbound engine is fully up-and-running, we often recommend putting paid ads in place to get more leads into the funnel.
For outbound, it's a bit simpler to get started, but one of the most important things to have is your first customer story and/or use case. You'll need to be able to speak to this with potential leads, and you'll also aim to replicate it over time. As the customer list grows, you should continually mine your user base for other use cases and case studies—these will become key pieces of content that can help bring leads along the buyer's journey. Additionally, you'll want to have a good handle on your customer profile and understand what's working—and what isn't working—so you can better target and grow over time.
5. Is it best to give Sales Development Representatives (SDRs) marketing qualified leads (MQLs) or start them on cold calls?
It depends quite a bit on the specific situation and what you're looking to accomplish—each use case will have a slightly different strategy.
Generally speaking, if you're launching a brand-new solution, bringing a new product to market, or solving a problem that people don't know that they have yet, you might want to wait until you have some traction on inbound leads before you bring on SDRs. However, if you already have something in the market, then the answer is as soon as possible—your SDR team can really do a lot for you, both inbound and outbound.
It's usually better to start with MQLs, especially if the SDR has never made a call for you before—these leads already have some familiarity with the offering and are more likely to engage. However, it's very doable to start with a fresh list of new leads. The key to success with a fresh list is to be sure you have a good handle on your customer profile to build a quality list.
6. Who should manage the outbound and inbound marketing and sales teams?
It's important to look at your business holistically when determining who will manage the inbound and outbound teams. Inbound and outbound are sales and marketing functions, so are typically overseen by a sales or marketing leader.
It usually works well when the outbound sales team reports to a sales-minded marketing leader who can build that lead generation engine. This is often preferable because when outbound reports to a sales leader, they sometimes focus more on the next deal rather than looking holistically at the kind of lead funnel they have and how the MQLs are designated. The marketing team often has a better handle on what initiatives are upcoming, buyer personas and use cases, and how to cut down the noise when a lead goes through the sales process.
That being said, it depends very much on the organization. There's also an argument to be made for having whoever is the stronger leader—sales or marketing—head up the inbound and outbound functions. And if there is tight alignment between marketing and sales in your organization, it matters less which role leads the processes, because they are all working towards the same goal.
7. What are the key messages to say to a lead quickly on an outbound call to get their attention?
First, you want to start with the problem or the pain that your solution solves—get it out there early and often to cut through the noise. There are hundreds of other companies selling to the same prospects, so you have to pay special attention to tone, pace, and reflection. Use crisp messaging and focus on what you're solving.
8. How much time do you have to get a prospect's attention on an outbound call?
You only have a few seconds to get the prospect's attention—that's why your tone and inflection have to be spot-on. Then the next thing you say is going to buy you another five seconds, and so on until you earn the right to ask the tougher qualifying questions. Build value first, then when you get to the point of open dialogue you can switch gears in to qualifying.
On that note, you can script calls, but the reality is that you can't let it sound like a script. Outbound calling is an art and a science.
9. What is the most common mistake that companies make when executing inbound and outbound together?
Outbound: Using inexperienced or poorly trained SDRs. Having the wrong people on the phones can do damage to a brand, especially if they are calling into a senior level audience. You don't want a college kid stumbling over a script—you have to be smart about who is representing your brand. Know your audience and their pain points. There is a right way and a wrong way to make an outbound sales call.
Inbound: Poor calculation and communication of lead quality when passing leads to the outbound sales team. Sales teams often love getting a list of inbound leads because they're already engaged. But if the level of contact isn't communicated, they won't know what they're getting themselves into when they start calling. For example: the inbound team provides a list of leads from a webinar, and the sales team begins to make outbound calls, but most of the leads don't recognize the company and aren't engaged. The sales team now needs to quickly pivot and go back into cold-call mode, which can slow down the process and seem jarring for the lead.
10. How do you measure and prove inbound marketing success?
While there are a lot of metrics you can track, long-term, you want to look at revenue—if you're not making money, something needs to shift. However, you should look at different metrics over time. Especially at the beginning, there are indicators that your inbound program is starting to work—you might not have revenue yet, but you're still in the sales cycle.
Here are a few other areas you may want to consider tracking:
Pre-funnel analytics: the kind of traffic you're driving to your site and social media interactions.
Lead quality: Track not just how many leads you're driving, but also whether you're bringing in the right leads. Are they becoming SQLs? Are they converting into opportunities? Are they eventually closing and bringing in revenue?
Cost per lead: Break it down by the different sources: inbound vs. outbound, events vs. advertising, and other sources.
Other patterns: Look at the numbers holistically and explore patterns. For example, your funnel may see shorter sales cycles for inbound, but bigger deals for outbound.
Regardless of what metrics make sense to track in your business, you should keep a careful eye on the numbers as you roll out and optimize programming. Evaluate regularly and consider the impact on how you approach your sales and marketing strategically.
—-
We hope you found the FAQ valuable—don't forget to check out the Inbound or Outbound webinar for more discussion. Have a question that isn't answered here? Drop us a line.