Marketing 101, Marketing Strategy, Messaging & Positioning, Social Media & Content Marketing, Tech Marketing
Forbes Round Up: What You Should Know about B2B Marketing Strategy & Messaging
Recently, we've been publishing some articles in Forbes focused on growth oriented topics. Below is a round up of our three most recent:
Developing B2B Messaging That Resonates
It's very common for executives and sales leaders to focus on what their company's products or services can do rather than the value they deliver. While the features and functions of your solution are important, they shouldn't be the focal point of your company's messaging. A strong messaging framework guides your internal and external communications, creating a coherent message articulating the real value of your company and its offerings, ultimately establishing a solid foundation to support your desired growth trajectory. We've provided some guidance and advice about developing your messaging in our recent Forbes article, More Than Just Words: Demystifying B2B Messaging.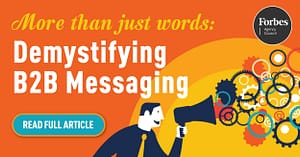 Survive Economic Uncertainty with the Right Marketing Strategy and Plan
Economic instability doesn't necessarily have to equal disaster for your company – strategic thinking and smart action in the area of marketing can make all the difference. Businesses should attempt to reduce risk while examining future opportunities – determining whether or not they have enough internal knowledge to build a modern, recession-proof marketing strategy and plan. In our recent Forbes article, Six Ways to Alleviate Risk and Recession-Proof Your Marketing Strategies, we examine 6 marketing tactics that can drive a positive impact for your company during an economic downturn.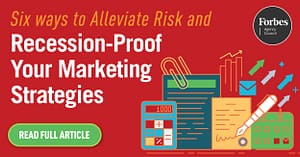 8 Ways Marketing Should Be Supporting (and Driving) Your Business Strategy
There are a lot of misconceptions about marketing's role in the broader function of growth strategy and planning. Once thought of as the 'pretty pictures' department or only as a means of supporting Sales, marketing has finally been thrust into the strategic spotlight to help companies differentiate and stand out in a crowded market full of educated, savvy buyers who are not always interested in talking to Sales. To learn the ways marketing should be supporting (and driving) your overall business strategies, read our recent Forbes article, Eight Ways Marketing Should Be Supporting Your Business Strategy.
We hope you find these articles helpful and informative.
Need some support for your own marketing efforts? Learn more about our Rapid Marketing Assessment & Plan to analyze your company goals, help establish your marketing priorities, and maximize return on all of your marketing dollars.