All, Early Stage Startups, Most Popular
Startup Advice for Entrepreneurial Leaders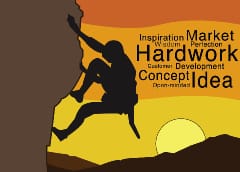 Personal Startup Advice from Founders
While interacting with startup leaders, we have the pleasure of hearing words of wisdom and startup advice that founders have to share with one another.  Individually, we can draw inspiration from the learnings of others and comfort in knowing others have faced similar obstacles to our own.  Taken as a whole, we are able to learn from the collective wisdom of others who have walked down a similar path.
We hope you find these pieces of startup advice as motivating and beneficial as we do, and we encourage you to share your own in our discussion below.
"Don't create a tight schedule for your product in the beginning.  Everything will always take longer than you think."
"It's important to be open-minded and dynamic with your startup. Directions and priorities change quickly, and being as flexible as possible will really help you succeed in the long-run."
"Starting a business is hard work, but it's also one of the most fun things you can do with your time."
"Startups are 10% inspiration and 90% perspiration. Spend a lot of time thinking about your idea and talking to people about it before you start pushing forward."
 "Understand your customer and why they would want to use your product.  Get to know them so well that you can start to think like them.  Your customer is your greatest resource."
 "Your idea only takes you so far.  What really matters is the execution."
 "Don't be paralyzed by perfection. Development is an iterative process, and it takes listening to your users to find a great solution."
 "Sometimes it can be very difficult to know if you're a month away from success or two months away from utter failure.  We overcome more challenges than we ever thought possible simply by sticking with our projects.  Never surrender."
"Be frugal.  It's very easy to spend money, but it's so hard to make it.  When you stay frugal, you're buying yourself more time to not surrender."
 "The secret is to believe in yourself more than you believe in your idea.  Ideas will change and so will the market.   The key to success isn't in a particular idea, product, or feature – it's inside you."
Which piece of startup advice resonates most with you? Do you have your own to share below? We'd love to hear from you in the discussion below, or on Twitter, using our handle @_Magnetude and hashtag #founderadvice.
For additional startup advice and quotes in bite-sized nuggets, visit the StartupQuote site for a daily dose.