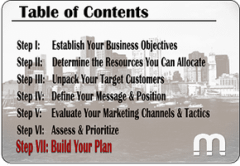 Welcome back to Magnetude Monday! In this last step we're going to describe the most important parts of your marketing plan to have written down.
If you missed any of the previous steps, you can review them here:
Step VII: Build Your Plan
By this stage, you should be feeling more confident in your marketing knowledge base and far better equipped to leverage marketing to drive your business forward. In this final step, take the elements from Step VI above, and document them with all of the critical information you, your team, and any outside supporters will need to understand.
You should include:
The business goals that your plan is striving to achieve
Key tactics that will be employed to achieve the plan
Ownership and responsibilities
Timeframes & dependencies
With your plan in hand, you are ready to begin developing and executing your marketing campaigns. Please pat yourself on the back—you have survived and are prepared to take on the marketplace!
Final Request for Our Readers: We Want to Hear from You
Magnetude Consulting created this blog series to provide founders like you with some basic tools for marketing. We hope you found this useful, and we urge you to get in touch with us now or months (or years) down the road. In particular, we'd love to hear:
How did this blog series inform marketing at your venture?
Did you have any surprising or game-changing insights?
Do you have any successes to share?​
We are also available to answer any follow up questions that may arise as you begin to implement elements from this blog series. So please feel free to contact us and we can answer any questions you might have or share additional advice as needed. Please email us at [email protected]
Follow us on Twitter to learn about the latest release of our blog posts!