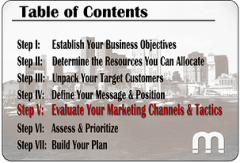 It's Magnetude Monday! Today, we describe the benefits and best practices of some of the most commonly used tactics in B2B marketing.
Step V: Evaluate Available Marketing Channels & Tactics​
The goal here is not to turn you into a marketing guru, but to help you understand just a bit more about the tools you likely have heard so that you can make informed decisions about what your firm might need, and what type of outside support to obtain. Click the titles to see the definitions for each tactic.
Public Relations (PR)
PR is beneficial for:
Defining a communication strategy for reaching your customers
Building an editorial calendar for interacting with key press
Determining the messaging platform for a given campaign
Pitching your story to the press to gain news coverage via press releases or bylined articles
Best use of PR: While there's no concrete rule regarding when a venture should engage PR, important elements to take into account are: how well do you know your audience? (if you don't know them well enough, you may not be ready to start this). Do you have the bandwidth to interact with journalists or speak at events? (If not, you might wait until you or another leader in your organization does.) Do you have the financial resources to dedicate, or is your money better spent on direct lead generation or business development?
Social Media
Social Media is beneficial for:
Building ongoing dialogue with groups of customers or prospects
Engaging with influencers, including bloggers and journalists
Listening to what your target market is discussing related to your industry sector
Launching promotions across multiple channels
Best use of Social Media: Having a social media presence is pretty much a 'must have' these days, but, managing social media channels can become time consuming if not planned correctly, so it is important to build a plan that takes into account how much time your team has to manage it and sets priorities appropriately.
Social media can be a great way to engage the market, demonstrate your thought leadership, and build awareness. Deciding which social media networks to focus on is an important component of your social media strategy, and it is highly dependent on your target market and internal capacity.
Content Marketing
Content Marketing is beneficial for:
Building credibility that your firm is an expert in your field
Establishing your voice in the market
Nurturing relationships with prospects
Keeping your current clients engaged
Best use of Content Marketing: Some of the best cases for investing in content marketing are:
Firms that are creating new market space or redefining an industry
Products or services that lend themselves to a cultish-like following (think Apple)
Firms with long and complex sales cycles where prospects need ongoing engagement
Marketing Collateral
Marketing Collateral is beneficial for:
Sending a consistent message out to the market
Efficiently communicating who you are and what you do (at trade shows, in email follow-ups)
Articulating the benefits of your products or services
Best use of Marketing Collateral: The most important tools to create are:
A 1-2 page company overview that includes your value proposition and the products or services (and benefits) you provide
A 5-10 slide PowerPoint deck that you can use to educate prospects on who you are and what you do
A deeper dive into the technical workings or unique value of your product in the form of a whitepaper or datasheet
Email Marketing
Email Marketing is beneficial for:
Finding new prospects interested in your offer (converting prospects to leads)
Creating ongoing engagement among clients
Positioning upsell opportunities with existing clients
Announcing updates and key communications with clients and other stakeholders
Best use of Email Marketing: The two most important elements to understand before building an email marketing program are learning the permission-based opt-in system (for legal purposes) and choosing an email management tool (to allow you to efficiently manage and scale efforts). Once you have this knowledge, you can decide how to segment and target your lists, what messages you are trying to send, and for what purpose.
Search Engine Marketing or Pay-Per-Click Advertising
PPC is beneficial for:
Getting new prospects into your sales pipeline
Testing out different messages across different audiences
Gaining a better understanding of searches your target market conducts
Best Use of PPC: The best two cases to invest in PPC are when you want to collect market insights and validate messaging, or when you have a solution to a product that users are likely to search for via search engine.
Webinars
Webinars are beneficial for:
Educating prospects about the pain point you help solve
Providing details about the technical workings of your solution
Sharing updates and innovations with customers
Best use of Webinars: Long gone are the days when users sign up for Webinars merely to hear about your product. These days, users expect to be educated on the market and industry, or to walk away with some best practices they can implement regardless of whether they buy your product. Webinars also require resources to plan and manage—including both the content and quality that goes into the presentation itself, as well as the marketing acumen to drive attendance and manage registrations. Many tools exist to facilitate this process, but it should only be taken on once you have the resources for it.
Trade Shows
Trade Shows are beneficial for:
Creating buzz around your company or products as part of your market launch
Driving in-person engagement with your target prospects and industry influencers
Learning more about your target market and competitive landscape through in-person interactions and relevant content
Best use of Trade Shows: Your goal for the trade show should guide you to the right level of investment. If you're mostly interested in better familiarizing yourself with your target market to understand their pain points, influences, and motivations, your best bet might be to send an extrovert from your firm to mingle, network, take incessant notes, and participate as an attendee. If, on the other hand, you're looking to generate buzz, you will likely want a larger investment.
Booths and speaking slots are expensive, and while they can be effective, they are generally just one piece of the puzzle. Just like any marketing program, your trade show program should begin with pre-, during, and post-show promotions that involve all of your marketing tools—email campaigns, social media promotions, and in-person interactions. If you don't have the resources or the know-how to truly build a trade show presence, you can likely find better ways to spend your marketing dollars.
Join us next Monday, when we help you learn how to "Assess & Prioritize."
If you are joining us out for the first time, and would like to read the previous steps, you can find them here:
Stay up to date with our latest blog posts by following us on Twitter, or contact us.