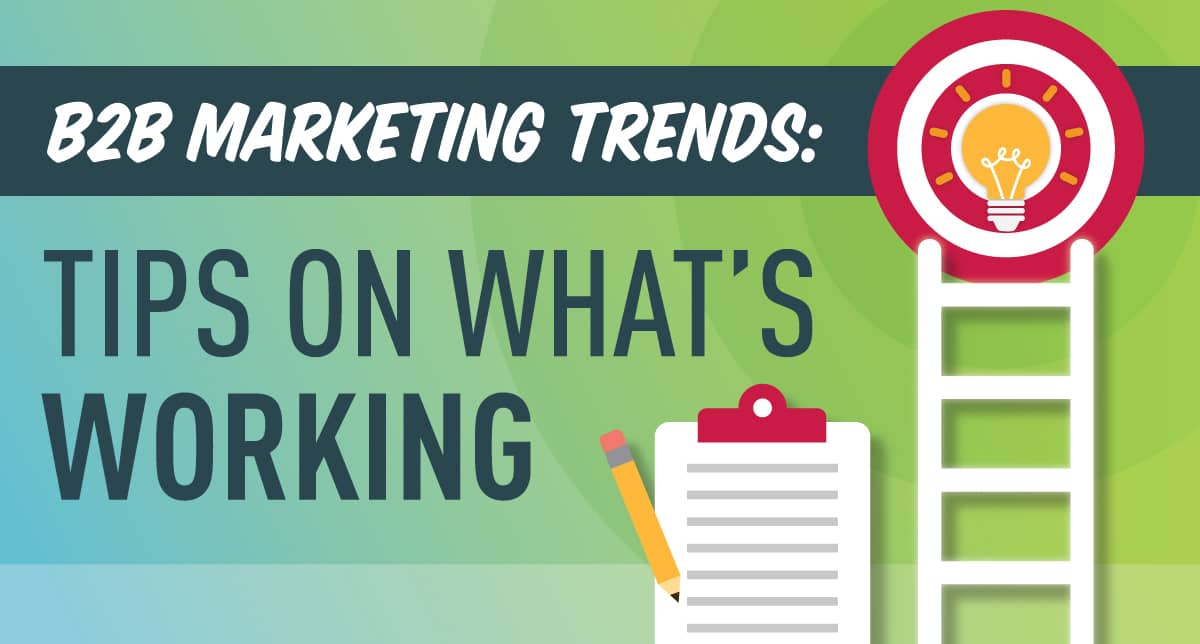 It's important to keep pace with new and emerging B2B marketing trends and technologies; spending time outside our 'bubble' helps us to serve clients better. The recent B2B Sales and Marketing Exchange (B2BSMX) conference in Boston was packed with sessions that illustrated interesting findings and strategies from the sales and marketing trenches. As always with marketing, everything is intertwined and starts with strategy. Here are some highlights:
B2B Marketing Trends in ABM (Account Based Marketing): Love the one you're with
One of the latest B2B marketing trends is ABM (account based marketing) – an older concept (we used to call it customer care programming) refreshed for the benefit of external prospecting – you know, sales and marketing, hand in hand, singularly focused, strategic and aimed on the win. Many companies are now turning this same approach to customer retention, upgrades and land/expand strategies. Marketing resources are directed toward consistent engagement (in conjunction with sales) to ensure the company remains top of mind, the customer is continually deriving full value, the customer feels valued and new relationships are being built.
Why is this point so important? Often a change in personnel at the customer/client can cause unforeseen havoc. Conversely, the contact who left (and was well cared for) often becomes a new opportunity. One of our clients held quarterly updates exclusively for customers – they gave sneak peeks at what was in the product roadmap, full access to their technical people, and education on how to maximize existing technology – they weren't selling, they were simply being great partners. When it came time for renewals and upgrades, the revenue number was significant.
B2B Marketing Trends in Targeting: Refine the concept
ABM was a hot B2B marketing trends discussed at the conference, and we heard that many larger companies already feel they've gotten to the repeatable phase (ie. the process and approach is being accurately scaled). For the companies that are still refining, targeting starts small – think micro verticals, micro geographies and limiting the size of the companies that are targeted. Tied to this was messaging – really understanding the prospect in this refined target, interviewing them, and then applying that messaging to like companies.
MarTech: Useful, but layer on the strategy or it's useless
Dave Gerhardt, VP of Marketing at Drift had an interesting point about the latest B2B marketing trends in technology: it's table stakes. The average marketing team is utilizing 10 technologies (give or take); so in reality, the difference we can make is with creativity. His advice: "Go right when they go left." Finding the white space is never easy, but often we're up against entrenched competitors, so applying that creativity to targeting can hold true payoff in reaching goals.
B2B Marketing Trends in Messaging: Prospects and Customers are different
Trying to deliver the same exact message to prospects and customers? Science says you're making a mistake. Tim Riesterer, Chief Strategy Officer at Corporate Visions studied the messages that work for both audiences. When messaging to prospects (especially in a competitive space), we should be 'disrupting the status quo' – avoiding going head-to-head and instead discovering unmet needs. This requires a true understanding of the prospect's drivers and day-to-day challenges.
Conversely, customer messaging (where you are aiming for retention, expansion, upgrades, etc.) needs to reinforce the cost of change versus taking the 'latest and greatest' tack. People are hard wired to resist change, so you must capitalize on and cement your position based on the current impact your solution is having, the momentum they've achieved, the investment they've make (sunk cost) and avoiding risk. This is connected to the discussion above on ABM – this type of messaging doesn't (and shouldn't) always come just at renewal time.
Reinforcement and new ideas
Many of the B2B marketing trends that were covered reinforced the type of work and thinking we already do with our clients. It's always interesting to see what's working (and not working) for other marketing experts. We're never too established to learn a few things – it only makes us better.
Need some support for your own marketing efforts? Learn more about our Rapid Marketing Assessment & Plan to analyze your company goals, help establish your marketing priorities, and maximize return on all of your marketing dollars.