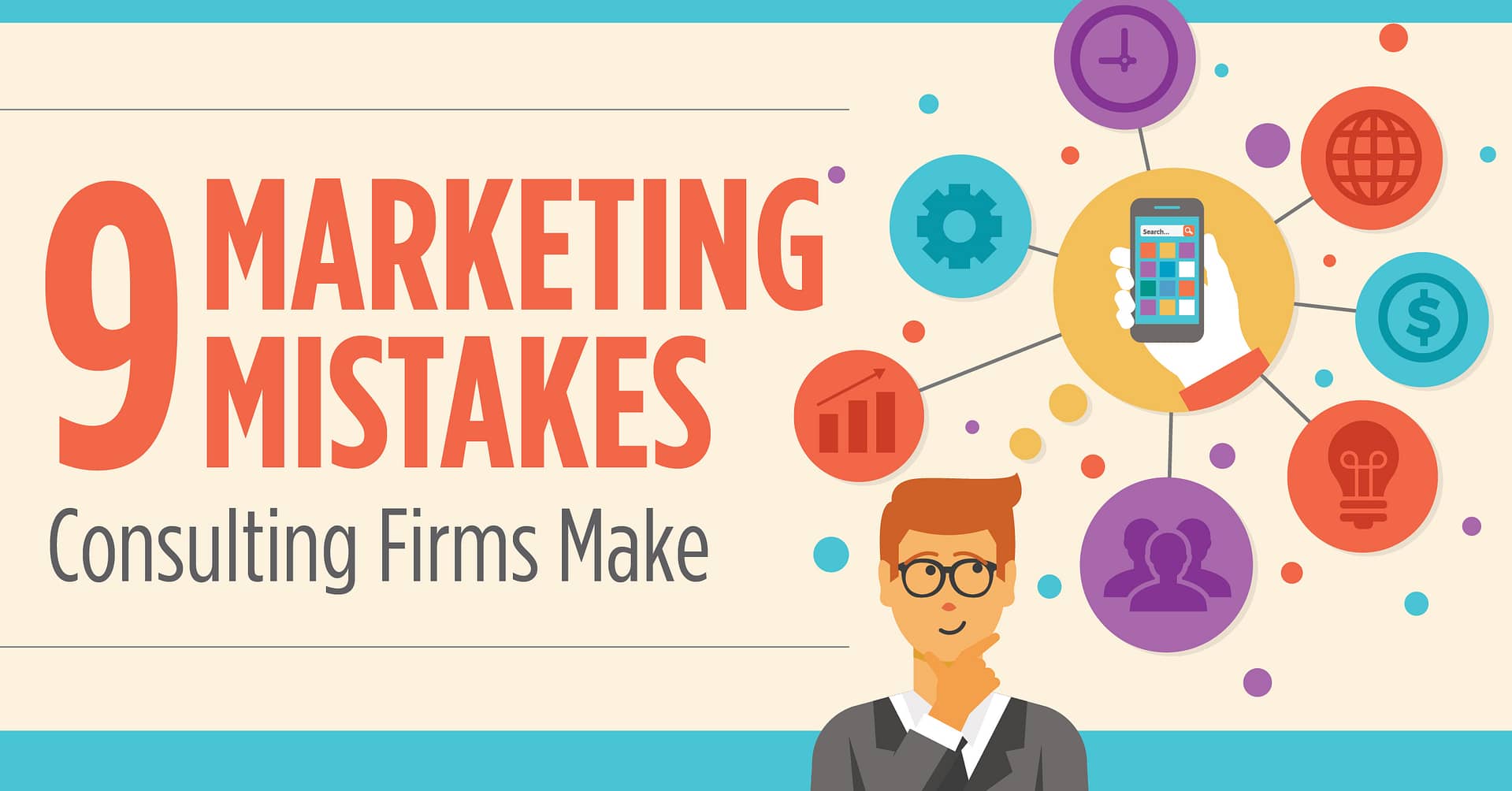 If you're part of a consulting firm and you're hesitant to engage in marketing…you're not alone.
Some consulting firms have been burned by agencies or by the wrong in-house hires, while others just don't see how marketing can support business growth in a relationship-driven industry. They say things like, "It's about who you know, not how many emails you send," and "SEO can't close a million-dollar deal."
Savvy firms understand that marketing can not only drive lead generation but also support business growth, like one healthcare services firm that acquired 13+ new clients and over $2M in a pipeline from Google AdWords and 26 new clients from website leads over the course of two years.
Before they decide to engage with a marketing partner, consulting firms often make some marketing mistakes. Here are the top nine:
They rely too heavily on referrals and WOM marketing – While referrals and WOM are excellent business drivers, they're not consistent.  It's nearly impossible to build a sales forecast (and therefore predictable revenue) when you can't control when the next referral will come in.  Marketing can put consulting firms in the driver's seat towards growth, and when done right, it can also fuel referral business as well.
A junior marketer is hired to handle all of marketing – Many consulting companies have a junior or mid-level marketer in-house.  This decision may be a result of financial pressures, because a talented individual on the team transferred into the marketing department, or because the firm doesn't truly understand the strategic role marketing can play in supporting business growth.  If a junior marketer is running marketing programs, they're not always focused on the areas that offer the greatest opportunities for the firm.
Sales isn't ready to handle leads – One consulting firm was creating excellent thought leadership content and generating high-quality leads. Although marketing had been delivering the leads to Sales regularly, the team wasn't equipped to handle the additional volume on top of their existing activity.  The leads sat untouched for weeks, which is a sales and marketing nightmare. Ensuring the team has all they need to follow up in a timely manner (e.g. timeframes, email templates, additional resources, etc.) is a critical component of any marketing effort. At a more strategic level, it's most effective when marketing for consulting firms includes not only lead generation, but sales enablement, streamlining the lead follow up the process, and marketing and sales alignment.
The sales funnel has drained – In the consulting world, there is a constant tension between sales and delivery.  If you've been more focused on delivery and the well has run dry, you'll want to get demand generation programs in place as soon as possible to help fill the funnel.  Ideally, you'll want to consider lead generation programs three to six months ahead of your typical sales cycle. If your sales cycle is three months, you'll want to get these in place six to nine months before you can reap the benefits.  Plan ahead so you're not stuck when you need leads next week.
The Head of Sales and Marketing is ignoring marketing – We get it: the pull of sales is strong.  When one person is in charge of sales and marketing, they often have a stronger sales background, which means marketing isn't always being done justice.  Not all marketing is in the direct line of sight for sales. For example, brand awareness, partnerships, and lead nurture programs are important, but may fall out of the purview of someone who has a quota to meet that quarter.
Current marketing efforts are hurting, not helping – Many consulting firms have a website, but it's outdated, and the messaging doesn't reflect who they are and where they are heading.  Some also struggle with what we like to call "The Flair Up Phenomenon," which is when marketing activities flair up when time allows and then fade back into darkness when things get busy again.  If you're experiencing this phenomenon, it could be hurting your business—your audience fills in the gaps on their own about why you've suddenly gone quiet. Regular cadence is critically important, even if your volume of activity is low.
Marketing opportunities are left on the table – Some consulting firms (typically managed services firms) have MDF (Marketing Development Funds) at their disposal. MDF are provided by some brands to help channel partners or resellers sell its products. In many cases, consulting firms leave MDF on the table.  When asked why they say that they don't know what to ask for or what they'd do with them if they did. Firms are always surprised to find out the traction they can make using their MDF when they work with a partner that understands this ecosystem.
Consulting firms launch their first product and don't consult product marketing experts – Many consulting firms build up enough IP over the years to create a product that is completely separate from their service offerings (e.g. a management consulting firm in the customer experience space launches a survey product that measures the strength of customer relationships).  When clients see this new product offering as business as usual, an opportunity is missed—these products can be applied across accounts to make them even more profitable.
Budgets are way off – Creating a marketing budget is no easy task.  This issue plagues many firms in the consulting industry, where long sales cycles and multiple touch points with prospects make it difficult to track whether your marketing budget is directly connected to conversions.  While the CMO Survey recommends that 6.8% of company revenues are spent on marketing, we've seen that number vary depending on company size, industry, desired growth trajectory, go-to-market model, and sales structure.  For firms in the 10-50 employee range and that are just starting to expand marketing efforts, we tend to see smaller budget numbers—investments of between 4-8% of revenues.  Many of these firms start at the lower end and grow their investment over time as they better understand the role marketing can play in their growth—and more specifically, understand the right investments to make and expand.
The decision to scale up marketing efforts is not an easy one as it requires an investment of time, resources, and perhaps even some soul-searching on how you want to be perceived as a firm.  In any case, investing in marketing is a decision that many firms wish they had made sooner as they begin to experience the vast benefits for their business.  Avoid these nine marketing mistakes by choosing a marketing partner that has deep expertise in the consulting space and beyond.