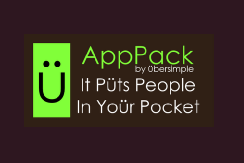 Magnetude Consulting gives you a closer look into the Boston startup community.  We interview tech startups and other entrepreneurial leaders to bring you their stories, as well as insights into marketing techniques that have helped them along the way.
Today's interview is with the founder of übersimple, Brad Durbin. übersimple is a software development startup with a mobile application called AppPack that lets you collect and share digital portfolios effortlessly.
Tell us a bit about your background…
This is my first startup, but I had done a lot of work in this space in the past. My partners and I each come from different backgrounds – business, technology, and consulting.  As consultants, we worked with a lot of different businesses focusing on solving their internal problems by trying to connect the data and networks within their systems.  Eventually we realized that if we can solve these internal problems for other businesses, we could build something ourselves that is scalable.  That's when we decided to start UberSimple.
How did you get the idea for your new product, AppPack?
My business partner was a programmer living overseas.  Since we were both working with multiple clients from a long distance, we had to transfer a lot of information to each other digitally.  In the process of transferring information, we found ourselves getting frustrated.  Emails would end up at the bottom of an inbox; pertinent information would get lost.  We thought to ourselves: there's got to be a better way to send large packets of information, and do it with the ease of a mobile phone.  So we came up with AppPack, which started out just as a tool for the two of us.  When we began mentioning the app to other people, they wanted to use it, too.  That's when we got the idea that this was something bigger than we'd envisioned.  The customers we would like to target are corporate users.
How do you describe the value you provide to your customers with AppPack?
AppPack saves corporate users time to share information about their businesses with their prospective customers. Users can easily upload a profile, videos, documents, and product information to share with their clients.  AppPack makes a corporate user's information accessible to their clients at any time and is always up to date and current.
What is your process for acquiring new customers?
We're active on social media, but our main focus right now is customer acquisition through networking.  We're launching AppPack to larger entities first like convention centers and other large organizations.  By having them endorse our product, we think we'll be able to reach a lot of the corporate users that we're targeting.
What are your ideas for future marketing efforts?
In the future, after we've gained more enterprise-level customers, we'd like to scale our marketing to do much broader lead generation efforts, possibly even get involved with the television or radio advertising space.
What is the one thing you wish your target customers knew about your firm?
While we plan on starting with corporate users as our main target customers, we envision AppPack being useful in other industries in the future.  For instance, we think that this app could have a really valuable place in the fields of education and non-profit organizations.  We foresee teachers using AppPack to share lesson plans and educational videos with students and parents.  Non-profits can use AppPack to distribute information on charities.  In the same way that a corporate professional's digital portfolio can be shared among his or her potential customers, we think that in the future, AppPack could be valuable for many kinds of organizations.
If you're interested in being interviewed for the Magnetude Startup Spotlight, or you would like to learn more about our services for early stage startups, contact us today!
Follow us on Twitter to stay up to date with our latest blog posts.