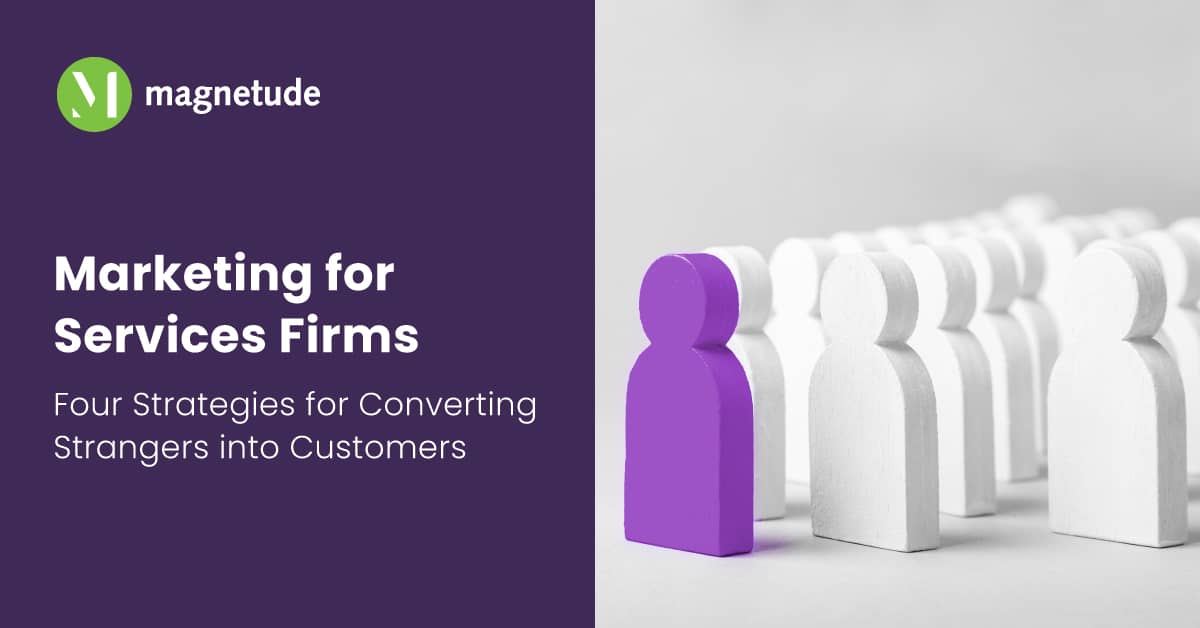 Converting strangers into customers is an ultimate goal of any business organization. Unfortunately, many services companies really struggle to get in front of the right prospects in order to interest them in their services. Why? Many organizations rely too heavily on referrals or their personal networks. And when they do get in front of a new contact in their target market, they are very focused on talking about their solution and company. While that can be part of the conversation, it should not be your opening pitch. Today's prospects expect high value, educational messages and experiences. You have a few seconds to grab a prospect's attention, and to do that you need to present a message that speaks to their needs and pain points. Many companies are still marketing services like they are participating in a bad first date. If all you are talking about is how great you are, you will soon be sitting alone.
Grabbing a prospect's attention can be boiled down to what type of information you share and how you share it. The messages you share with your prospects and network should speak directly to their pain points, offering educational and value-driven solutions. It should position you or your organization as a thought leader, offering advice that solves challenges and makes your prospects more successful, all while thoughtfully showcasing your organization's unique value. It should not be purely self-serving or salesy.
You should think of your marketing program as a funnel, gathering general leads, then providing content that helps educate buyers so they have the information they need to move closer to a purchase. To fill this funnel, you have to increase visibility. Marketing services can be challenging—especially for smaller, lesser-known firms. When IT solutions fail, it can cause costly downtime, make a company more vulnerable to a security breach, and numerous other negative impacts. This makes many prospects hesitate to try unknown service providers.
To overcome these concerns, you need to be visible, credible and reliable. This is why brand building and network expansion are important. Rarely do prospects see an ad marketing services and make a purchase decision on the spot. You need to ensure your prospects are aware of your services so you make the consideration list when the need arises. How can you do this? There are multiple ways; some examples include, digital marketing, speaking at events, securing media placements, and building partnerships with synergistic firms. All of these activities build credibility and authority and help you get and stay in front of the right audiences. To start, here are the four core strategies that have helped many companies when marketing services:
Communicate your value and differentiation clearly
Start by comparing your services to those of your competitors and find your unique selling proposition—and then try to get specific with proof points. Do you create value by reducing downtime by 3x the industry average? Does your service enable companies to be operational on a new SaaS platform in hours instead of weeks? Marketing services is about finding the pain point of your target prospects and then showing them how your services solve challenges and deliver value better than any other solution. As you articulate the value of your services, make your offers easy to understand. For many customers, it is easier to choose a package of services or a number of service hours, rather than trying to pick from a laundry list of individual options. This is where going an extra step to package bundles or productize your services can be beneficial. For example, if you have unique expertise in specific markets, create value-added service packages based on specific industry needs and best practices. Finally, too many technology companies fall back on "superior service" as a core differentiator. While superior service is clearly important, it is usually the same claim made by all of your competitors. It's important to find and focus on your unique differentiators to frame your message.
Write content that proves your expertise while building credibility
Why focus on creating quality content? It's simple: providing educational content not only enables new conversations with your prospects, it also helps demonstrate your expertise.
What kind of content works best? Anything that's educational or thought leadership oriented, and aligns with your firm's offering or industry space, as well as—in some cases—your personal leadership brand. Sharing ideas and information that make people smarter, pushes them to think differently, or even that entertains them a bit, can help build the relationship.
Your content also must align with the personas that you engage in the sales process. If your value proposition is targeted to appeal to the C-suite, VPs or Directors, make sure your content does too. If you are marketing more tactical services, craft your message to target the pain points of the appropriate managers or directors. Ensuring that your content appeals to your targets and offers appropriate conversion and follow up opportunities is a key factor for successfully marketing services.
You should also think about how your content will convert strangers into customers by envisioning how you will move prospects down the marketing funnel. Design your content programs to start with awareness, then move customers down the funnel by offering higher value calls-to-action. If you are an SMB, odds are you don't have the time or budget to craft messages that specifically target each different level of prospect for each individual campaign. You should still offer varied content, but ensure that most of your messages have some element that appeals to prospects in the research phase, since these targets are closer to making a purchase. We call these types of topics and messages 'qualifying content'. This content sends a signal that the reader is likely entering a research or buying cycle just by virtue of that fact that they are reading it.
Cast a wide content distribution net
While solid content is the foundation, unless you have a good distribution plan your efforts will go to waste. If your content is not reaching your target audiences, that content has no value. Consistent distribution of value-added content helps you keep your current prospects engaged, builds awareness among target audiences, and helps to attract new prospects. Everyone is busy, so it is crucial to keep a consistent outreach program to remind prospects about your services. Distribute your content to your social media networks (primarily LinkedIn for most services firms) and ask your network and team to share the content, too. Remember that people change jobs frequently these days, so a past colleague might very well be today's prospect.
Done correctly, your content's reach can compound exponentially. LinkedIn is perhaps the best example of this: anytime someone likes, comments or shares your updates, it appears in their news feed and is shown to their network. A single LinkedIn post can get in front of hundreds (or even thousands) of people within a couple hours and continue to compound over time—a result we see regularly when working with our clients to drive visibility and opportunities through LinkedIn. For additional information on building your executive social media presence, you can read our blog, "9 Reasons for CEOs to Invest in their Social Media Strategies."
However, content distribution is not just about social media. The key is to think multi-channel. Some people are on LinkedIn daily, others attend events regularly for information, and others scan their email inbox for interesting reads. The goal is to be visible to your network on a consistent basis—and to do the right things to consistently expand that network. As part of this, it's important to consider who in your organization should have their own visibility and presence (e.g. leadership team, sales leads, etc.) and how you will manage the company's overall visibility.
While there are a myriad of other marketing strategies and tactics that can be folded into this type of multi-channel effort, key channels to consider are:
Social media: Focus on the channels most relevant to your audience. Carefully craft messages for your company page as well as individual employee profiles for executives and customer-facing team members. Consider paid marketing and re-targeting strategies.
Email marketing: Share your educational content with your prospects and installed base (and grow your email list if it doesn't contain the audiences you seek to engage)—and don't be afraid to suggest they share it with their networks.
Events: In addition to merely attending events, identify the right opportunities for speaking. This is a place where you might leverage your partner organizations to speak at their events, jointly host an event, etc.
Partnerships: Last, but certainly not least, build relationships with complementary or like-minded firms that can help promote or sell your services, provide referrals or join you in co-marketing activities.  This may include joint content, event collaboration, or simply support in disseminating your content.
Partner, selectively
Partnerships can help drive tremendous growth and other business value, and while sales partnership development and channel marketing are vast topics in their own right, partnerships can offer new sources of prospects and referrals. Advantages can include introductions to their client base, opportunities to share educational content with their network, joint marketing or go-to-market efforts, or more formalized referral and reseller relationships.
Most companies will develop partner relationships organically over time, but the most successful companies opt to invest time and resources to proactively optimize partner opportunities. There are numerous types of partnerships, but the key is ensuring that you have a program and message that aligns with their audience and unique value proposition. Some organizations may bring vertical integration expertise that you can market, others may be marketing to the same persona so cross-marketing may make sense. Aligning your strategies, building sales tools, and designing programs to suit the unique needs of your partners drives the best results. In our work with client partner programs, we've seen success in areas including:
Creating joint thought leadership content on a topic of mutual interest that gets disseminated to both firms' audiences
Developing an industry research report with original data that leverages the network of a larger partner to field a survey
Hosting an educational event for the partner's client base as a means of gaining access and credibility with their network
Conducting joint public relations efforts, whether telling a broader story of the collaboration itself or pitching a thought leadership topic with subject matter expertise from both firms
These are just a few examples, and there's no one-size-fits-all recommendation. The magic in this approach really happens when organizations take a closer look at what each company has to offer the other and plan accordingly.
Start now
While creating a comprehensive marketing plan yields the best results when marketing services, adopting even some of these concepts will start to pave the way for success. If you pair thoughtful, educational content development with smart, consistent dissemination strategies, it helps keep you top-of-mind with prospects, increases referrals in your direct and extended network, re-engages old customers and attracts new audiences.
If you need more advice or don't have the internal staff to design and execute a plan, contact us for a free introductory Q & A session.