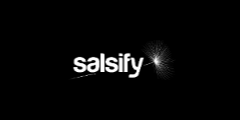 Magnetude Consulting gives you a closer look into the Greater Boston startup community.  We interview tech startups and other entrepreneurial leaders to bring you their stories, as well as insights into marketing techniques that have helped them along the way.
 Today's interview is with the one of the founders of Salsify, Rob Gonzalez. Salsify was created to dramatically simplify how companies manage and exchange product content with their partners.
 Tell me a little bit about your background…
I started out as an engineer in the IBM Advanced Internet Technology team in Cambridge. However, while I enjoyed coding, I felt too disconnected from end users, and I wanted to be closer to things that might have a more immediate impact. So I went to Endeca, which was a great learning experience for me. I had much more responsibility beyond just technical product management and exposure to the way the whole company operated.  From there, I wanted to go further toward the business side of a technology company and have more authority to determine the direction of a company.
Coincidentally, the group that I was working with at IBM had formed a company to productize a project that I had worked on back in 2006.  They had raised a little bit of money; I was very excited about the product, and I joined shortly thereafter as the first product manager, leading both product management and marketing. Then last year I got together with two past colleagues from Endeca, and together we started Salsify.
How did the idea for the startup come about?
One of the things that we saw at Endeca is that there was a very strong need for product content management distribution between companies.  Right now there is a category called product content management software, which are basically master data management systems for product data.  They sell in the six figures plus thousands—sometimes hundreds of thousands—more in implementation costs, and this is just for software to organize product data.
But these products are primarily concerned with organizing a single company's data for their own usage, and we were also seeing another, unmet need: how do companies effectively share rich product content with partners and suppliers?  We didn't see a good solution in the market, and given our experience in e-Commerce and data management at Endeca, we felt uniquely suited to address this need and innovate the way companies manage and share product information.
 What phase is Salsify in currently?
Right now we're really heads down, focusing on building out the product.  Our first customer has been piloting our product for a few weeks now, and we're looking to open up the software to a broader beta program to service the e-Commerce market this spring. In the broader beta we'll bring on a few more customers, collect a lot of market feedback, and use it to plan a a bigger launch later in the year, when we can get out there and really start to build the brand and grow the business.
 How do you envision your customer acquisition process once you're ready to launch full-scale?
We're attracted to the Hubspot model of focusing heavily on inbound marketing – being really active online and creating great content marketing.  We see value in employing a low-touch sales model supported by knowledgeable customer service teams.
 How do you describe the value proposition that you provide to customers?
We make it very easy to store and manage all product content, including rich media.  But more importantly, we also make it easy to share all of that content with the partners in your supply chain – with your distributors, retailers, and manufacturers.
 What is the one thing that you wish your potential customers knew about your startup?
If you are a manufacturer in need of a better way to manage your product content, images, and videos and share that with your distributors and retailers, please check our our beta program.
If you're interested in being interviewed for the Magnetude Startup Spotlight or you would like to learn more about our marketing services for startups, please contact us today!
Follow us on Twitter to stay up to date with our latest blog posts.