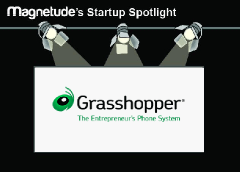 Today's interview is with Ambassador of Buzz at Grasshopper, Taylor Aldredge.  Grasshopper is a virtual phone system for entrepreneurs and small businesses, allowing you to run your business using your cell phone.
Tell me a bit about your professional background as it relates to Grasshopper?
My background is in marketing.  I graduated from Boston University in 2010 and started working with virtual events and client services.  Through networking and reaching out to people on Twitter, I ended up talking to a former Ambassador of Buzz at Grasshopper, and now here I am.
What are your favorite parts about working at Grasshopper?
Grasshopper has been bootstrapped for 10 years now, which gives us the freedom to be as creative as possible with our business and marketing strategies.  I think this quality is very unique to startups and has been a very inspiring opportunity for me.
Tell me about the value that Grasshopper brings to the market.
Grasshopper is a virtual phone system for entrepreneurs and small businesses. We provide local and toll-free numbers so that people can manage their inbound calls.  We provide the entire system (extensions, departments, greetings) and it's all done in the cloud and online so there's no hardware or software to install.  Grasshopper helps businesses sound more professional and offer a better customer experience for someone calling in, trying to get more information.
What have been the most effective marketing channels for you?
We try to think about where our customers would be looking for a product like ours, and it tends to be publications, events, and search results.  So we spend a lot of time marketing in these three areas.  We're constantly at events, connecting the human aspect to our brand.  We also develop relationships with the media and try to get featured in relevant publications.  Lastly, we strive to be at the top of searches and put a lot of effort into SEO.  We don't have a formal sales team or market to prospects through a database.  Instead, we try to create these organic experiences that we hope our customers will love.
What have been Grasshopper's greatest challenges?
I think the biggest challenge is creating a product that is constantly meeting the needs of your customers.  We're always trying to reinvent the infrastructure and make updates in order to keep them happy and continue to grow.
Are there any milestones for Grasshopper this year?
We're turning 10 years old as a company this year.  Like I mentioned, Grasshopper has bootstrapped its way to 10 years old, and we're excited to celebrate this year.  Also, we recently released our mobile app for the iPhone.  It will help manage outbound calls and turn the smart phone into a comprehensive business line, so we're getting ready to promote that soon.
What is one piece of advice you would give to someone interested in startups or entrepreneurship?
I think the biggest piece of advice I can give is to really understand your customer and why they would want to use your product.  Get to know them so well that you can start to think like them.  Your customer is your greatest resource.  If you maintain those relationships with constant engagement, you're much more likely to have a product that people will love and talk about.
If you're interested in being interviewed for the Magnetude Startup Spotlight or you would like to learn more about our marketing services for startups, please contact us today! 
Follow us on Twitter to stay up to date with our latest blog posts.