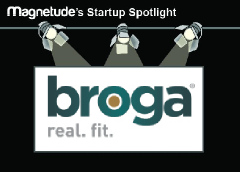 Broga: Classes on Yoga for Men (and others!)
Today's startup spotlight is with the co-founder of Broga Yoga, Adam O'Neill.  Broga Yoga offers real tools for coping with daily stresses and demands through an accessible yoga-based fitness program taught from a man's point of view.
Tell me a little bit about your background as it relates to Broga.
I grew up in what I call, a "yoga household."  My mom is a yoga teacher, so I've been marinating in the yoga philosophy and lifestyle since I was born. My mom recommended yoga to me when I was younger to help me in sports, but at the time, I ignored her and it wasn't until my mid-20s when I had injured my back and was in physical therapy for 6 months, that I started to realize how important yoga could be.
I noticed that some of the exercises my physical therapist was having me do were moves that I had seen my mom do hundreds of time growing up. It was a huge revelation for me to be doing yoga for recovery when I could have been doing it all along for prevention.  The only reason I never did it growing up was because I didn't think yoga was "cool".  That was the notion that brought me to Broga, and it occurred to me that yoga needed a fresh face, a new look, and to be reintroduced to the world in a new way.
How did you go from idea to your current stage of the business?
My business partner, Robert Sidoti, was a friend of mine back when we were both living in Martha's Vineyard.  He had recently gotten his yoga certification and over time, we started fostering the concept behind Broga.  Two years later, Rob had started teaching a a men's yoga class and trademarked the word Broga.  That was the beginning of our partnership—he's the fitness guy and I'm the business guy—it's a great combination. 
After a few years of hard work, this past January, it became very clear that Broga was gaining more and more traction.  We'd been featured in Men's Health, Men's Fitness, Time, and the Boston Globe.  We've also been interviewed by the BBC, NPR, and local news channels.  We started to get people asking for Broga videos and local classes, and to get trained to teach Broga.   That's when we finally made the switch to full time.
What is some advice you have for other startups looking to generate the kind of buzz you received around Broga?
I'm a firm believer that name matters. It can be a make or break move, in my opinion. We've seen tremendous traction and success because of our name.  Broga describes itself with the word, and it's also kind of funny and catchy.  It's truly been a powerful asset to us.
What is your business model and how did you develop it?
We look to Zumba as a great model. They are the diamond of the fitness industry right now with $650M a year in revenue. Their business model is relatively unique to the fitness industry, but one that we are looking to emulate.  For us, it's all about training and empowering our teachers.  The only thing they need to do is abide by our brand standards.  Where they teach and what sorts of other business arrangements they formulate around their teaching is totally up to them.  We look at Broga instructors as entrepreneurs themselves, and we strive to find ways to help them succeed.
In the coming months, what are some of the most critical elements to your success?
Getting capital will be very important because the fitness industry moves fast, and we have to be able to scale quickly.  The other piece is that we need to provide our Broga instructors with as much help as we can while continuing to add new instructors.  This can be challenging when resources and time are spread thin.
If you had one piece of advice that you could share with other entrepreneurs or founders what would it be?
I would say the biggest key for us is our advisory board and the network we have built around Broga.  My best advice for an entrepreneur is to find experts with skill sets that are complementary to yours, and do whatever it takes to get them in your corner.
Magnetude Consulting gives you a closer look into the startup community.  We interview tech startups and other entrepreneurial leaders to bring you their stories, as well as insights into marketing techniques that have helped them along the way.
If you're interested in being interviewed for the Magnetude Startup Spotlight or you would like to learn more about our marketing services for startups, please contact us today!