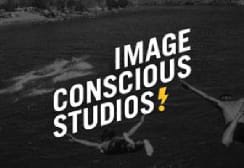 Magnetude Consulting gives you a closer look into the Boston startup community.  We interview tech startups and other entrepreneurial leadersto bring you their stories, as well as insights into marketing techniques that have helped them along the way.
 Today's interview is with the founder of Image Conscious Studios, Adam Gesuero. Image Conscious Studios is a full-service creative studio, offering skills in web & interactive, brand identity, online strategy, and print collateral.
Tell us a bit about your background…
Before starting Image Conscious Studios, I worked on an in-house design team for a Boston start-up, as well as working with several large agencies such as Digitas. I also freelanced for 5+ years under the Image Conscious Studios name, where we operated as a 1-man (and then 2-man, when my wife joined) "virtual" design shop.
How did the idea originate for this startup?
I was pushed into the deepend: the start-up whereI working folded, and I quickly realized I didn't want to rely on someone else's vision for success. I started to work freelance, building up a client base that grew until we were able to fully go out on our own as an independent creative shop.
How do you describe the value you provide to your customers?
By letting our clients know that we provide creative solutions to common business problems that will help them to express and communicate what's special & unique about their business to their clients.  Although our general approach to all of our clients is the same, we can certainly tailor certain aspects of our services based a client's size, industry, etc.
Have you ever had to pivot? How did you make the decision?
We've undergone two changes in the past few years; the first centered around growth: I reached a point where I decided that I couldn't do everything myself and would be better off building a small, agile team around me to improve the overall business.
The second change we're in the middle of at present, which is centered around the value we offer our clients: instead of the more commodity-based model of making "logos" and "websites", we're re-positioning ourselves as a creative consultancy, where we develop long-term, valuable relationships with our clients. The design solutions we create become a part of solving their ongoing business problems, and the advice & consultations we provide help them to shape their business goals & directions.
Do you have any obstacles or challenges you're currently trying to overcome? What is working best for you to help solve these hurdles?
We've added new staff, so much of our challenges pertain to building & nurturing a fun, creative and efficient internal culture. This happens through a lot of group meetings and brainstorming as a team to create those bonds.
What types of marketing have you done? What's been most orleast effective?
Nothing beats the value of face-to-face interactions, but – being a digital firm – we of course use social channels to build up a following and engage with clients, leads, and other professionals in our space. This is obviously where the future of marketing is, but it still needs to come down to personal experience: we need to find creative ways to make our interactions & engagements resonate on a personal level, whether they're coming from social channels or traditional avenues such as mailings & ads.
What do you see as your biggest marketing need?
Effectively building relationships with our target customers. We all take some ownership in this, but I work closely with my Studio Coordinator to plan and implement initiatives.
What is your process for acquiring new customers? What are the most important elements to doing this effectively?
Doing good work brings in referrals, as does networking. I think the most important part of this is listening to people's needs, and responding in ways that helps them, whether that means working with us, or referring them to resources that will help them.
 What is the one thing you wish your target (potential) customers knew about your firm?
That good design is integral to good business: it should never be an after-thought, but a key component to the product or service they're developing. Your customers & consumers have come to expect this, so building a relationship with us can absolutely have a positive impact on your business's bottom line.
If you're interested in being interviewed for the Magnetude Startup Spotlight, or you would like to learn more about our complimentary consultation, contact us today!
Follow us on Twitter to stay up to date with our latest blog posts.