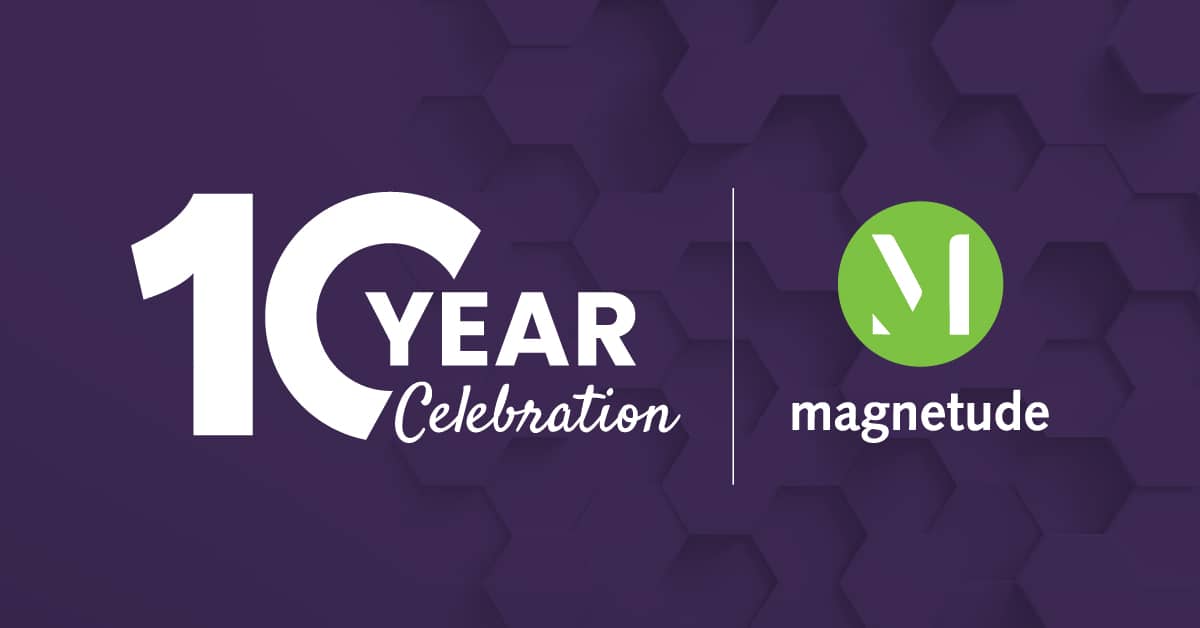 Originally published on LinkedIn by Natalie Nathanson, Magnetude Founder & CEO. 
Those who know me will agree I'm an entrepreneur through my core, and while my mind is still flooded with fresh memories of Magnetude's early days (and everything that goes along with launching and growing a new venture), as my firm celebrates our 10th year in business this month, I've been reflecting proudly on all the milestones and accolades we've achieved, and the incredible impact we've had on so many clients over the years.
While it's hard for me to distill a decade of learnings into a bite-sized read, a few themes have surfaced for me that I'd like to touch on briefly.
First up: the importance of being a thoughtful listener to all that's happening around me—discussions with clients, prospects, staff, partners, and others in our ecosystem (not to mention podcasts and peers)—and being very honest with myself to ensure I'm truly hearing someone (vs falling into the founder "happy ears" trap). From there, I have learned to bubble those conversations up into market-level insights that inform how we evolve and refine our business over time.
I've also had the privilege (and as I view it, responsibility) of surrounding myself with brilliance. I truly adhere to a "rising tide raises all ships" mentality and have always felt grateful to be in a position where I can be inundated with marketing and business talent who are smarter than I in their respective strengths and domains of expertise.
Lastly, (and the one that took me the longest) is the lesson that no matter how much information I gather for making critical decisions, I must always trust my gut. Many of my best and worst decisions have tied back to following (or ignoring) my instincts—and as a good friend once reminded me, it's a muscle that gets stronger with practice and time.
Withstanding the test of time and change
Stepping back to reflect on the marketing industry, while I'd love to wrap up our learnings into a neat little bow along the lines of "The more things change, the more they stay the same", there's a fairly interesting mix of the two. Marketing has certainly changed dramatically over the past decade. Granted, the principles and foundations that underpin marketing strategy and planning have not changed, but so much has changed in marketing practices and the tactics deployed. Much of this happened at a steady pace over time, namely driven by digital adoption patterns and a bustling and crowded martech landscape. With all this, changes in prospect and client expectations and behaviors that have redrawn (and increasingly blurred) the lines between marketing and sales. But the catalyst that drove more rapid change than anything else was in early 2020.
The pandemic catapulted many of our clients to re-engineer their go-to-market strategy—in some cases, out of necessity to survive, but also, finding and capitalizing on new opportunities in the market to accelerate growth. The nature of marketing work we embarked upon to support these business evolutions was diverse and spanned strategy and execution alike: shifting value propositions, appealing to new target markets, launching new offerings, evolving selling models, and embarking on new lead gen tactics and initiatives, including, for most, an amped-up digital presence.
Clients who used to get most new business from events and in-person selling had to quickly (and admittedly, sometimes begrudgingly) embrace digital marketing, and in a couple cases, had to heavily depend on digital marketing as their primary source for refilling their pipeline. Another client had their entire target market shift behaviors seemingly overnight due initially to lockdowns and we needed to quickly shift their go-to-market to an all-channel, digitally-driven engagement model. And a whole host of clients successfully introduced new offerings to serve their clients where they needed it most. The most notable example was a tech services firm that quickly applied their industry knowledge and competencies to introduce digital-first, touchless engagement systems to non-profits, ultimately pivoting their focus and catapulting their business in a new (successful) direction they decided to continue for the long term.
More importantly, it's not only the tactics that have shifted (and grown increasingly specialized and competitive), but also the increased role and reliance on marketing overall to help build growth strategy and build and move pipeline. The complexity and competition in the market signal the importance of being clear on who you target, the unique value you bring, and identifying the best ways to reach them. And all the shifts in behaviors meant that what worked 2 years ago—or even 6 months ago—may not work as effectively today. The pace of change continues to accelerate and it's hard for anyone to keep pace on their own.
A Moment of Gratitude and Appreciation
Couched in all of this, I have such an undercurrent of gratitude and appreciation for where we are as a business, and it goes in so many directions. Starting with my team, who enthusiastically and continuously hold themselves to a high standard in impacting our client's growth, who tirelessly show up to support and collaborate with one another, and who still maintain and balance all the things that are important to them in life (both in and out of our work). To our clients: who have placed their time and trust in us to help advise and grow their precious companies (and often at very critical inflection points in their business) and have offered invaluable collaboration and many cherished friendships along the way. And our "Friends of Magnetude", as we call our broader ecosystem of partners, friends, supporters, and cheerleaders—for exchanging ideas, collaborating on projects, and offering advice and encouragement over the years.
Like Any Good Marketer…
And lastly, an announcement: Given the evolution that's taken place over the years—across B2B marketing as a discipline and across all the changes in the industries we serve and the level of support and partnership we bring our clients—we too, have evolved. (Just ask my team of all the work that's gone into the initiatives and investments we've made along the way). So with much excitement and an eye towards our future and the continued growth of our firm, we are cementing our 10 year anniversary milestone with a new and refreshed brand!
For us, it's an evolution of our external presence to reflect and celebrate everything we've achieved for our clients and for ourselves—and help spread that message to the world around us in a new way that continues to reflect who we are…and everywhere we want to go.
Thank you to everyone who's been part of this journey thus far, and here's to another fantastic 10 years ahead!