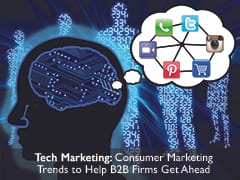 What Tech Marketing Can Adopt from B2C
Small business doesn't mean small thinking – at least it shouldn't.  Many of my fellow B2B tech marketing peers might scoff at the idea, but I think there's a lot that tech marketing can learn from consumer marketing.  Don't get me wrong—I'm a die-hard B2B-er, but in my 10+ years in the industry, I've seen many innovations in consumer marketing that haven't quite made their way to the B2B tech world in a capacity suitable for sufficiently impacting customer engagement and building an engine for qualified lead generation.
Not only should small businesses try to keep up, but we all intuitively know that technology levels playing fields.  Small businesses have the opportunity to play alongside the big guys, if we do it right.
Below are just a few of the trends that have shaped consumer marketing landscape that our B2B tech marketing ecosystem can better incorporate and adopt.
Personalize the experience.  Personalization has taken the helm of consumer marketing.  While we are already well into the internet age, the value of a personalized customer experience is at an all-time high.  Major advertising campaigns such as Discover's "We treat you like you'd treat you" TV spots (see link to video below) are illustrious of a growing desire for—and the industry's success with—personalization.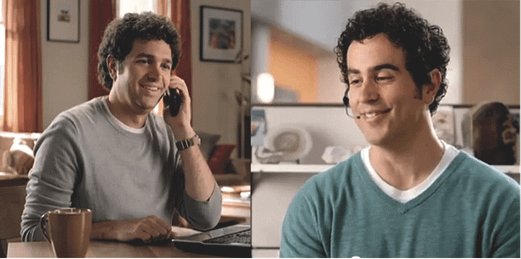 In fact, a VentureBeat post cites that 94% of companies agree that online personalization is key to business performance.  Despite this trend, we still see far too many 'spray and pray' approaches in tech marketing.  Leverage technologies that allow for customization and personalization in an automated and efficient manner.  Technologies like Eyeview, Marketo, and Purlém allow you to easily build personal URLs, videos, and other content so that customers who visit your site see the information addressed to them.  And by "Personalized URLs" I don't just mean an email address that has your last name as the website. Purlém for example, can seamlessly customize your website by visitor, enabling every customer in your contact list to see a version of your website tuned specifically for them.  Sterling content personalization accelerates the visitor-to-lead-to-customer conversion.
Embrace a 'mobile first' mentality.  As seasoned business leaders we all know that long gone are the days when we logged into our desktop PCs at 9AM, logged out at 5, and didn't check up on our work (digitally, at least) until the next morning.  Today's business users have adopted smartphones and tablets for business as well as personal use and consuming significant volumes of work-related content during non-working hours.
Consumer marketers have diligently embraced the notion of this 'always on' customer who consumes content via smartphone first, and does so at all hours of day and night.  For consumer marketers, this warrants creating a unified experience across channels (mobile, PC, phone, in-person, 3rd party vendors) and aligning back-office services (inventories, distribution, etc.) across those channels.
What does this mean for B2B marketing? To start, it means we should at least consider what a 'mobile first' marketing experience looks like in our respective business environments. With 69% of business executives keeping their phones on nights and weekends (according to a Financial Times study), we can't afford not to.  Does it mean creating more bite-sized content that can be consumed via smartphone on a train commute? Should we be creating 'how-to' videos for field customers to access product demos when they're out on a job? We might not be able to control how our prospects engage with us, or when, but we should certainly be proactive in taking ownership over what we want them to consume, and how. 
Equate your website experience to customer experience.  Your customers are likely already doing so, so why shouldn't you? And while of course, we know there is so much more to customer experience than a company's website features, as our expectations as individual consumers have risen, (whether deliberately or not) we have placed those same expectations on our digital business experiences.  Savvy consumer marketers are constantly striving to understand the patterns of every user's click, search term, or shopping cart abandon, and they take those as valuable nuggets of customer intelligence that feed website optimization efforts.
We need to adopt a similar mentality in B2B, even in small tech firms where resources are limited—enhancing our websites to ensure we have a good, clean website with a clearly articulated value proposition for specific customer segments, employing the right analytics packages to understand online activity, developing the right set of offers to help our prospects move through their decision-making process, and creating the opportunities to engage with them in ways that fit their day-to-day.
Technology has changed the way we connect and conduct business. Consumer marketing and social behavioral trends all point towards more personalization and rising expectations. The world has updated. Tech marketing (and more specifically, small business-to-business tech marketing) needs to pull up a seat at the table.
Interested in updating your firm's B2B tech marketing practices? Contact us to see if you qualify for a complimentary, 2 session Assessment & Analysis Package with Magnetude Consulting.