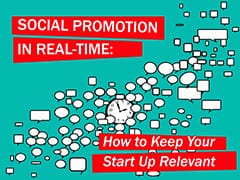 How to Use a Social Promotion in Real-Time
Whoever said patience is a virtue clearly wasn't thinking of social media marketing, where speed is the essence to relevance.  The creation of the Internet, followed years later by the development of the social networks we know and love today, have given birth to a multitude of social technologies that intricately connect people to friends and strangers alike at the click of a button.  Thanks to social networking's real-time capabilities, companies are also jumping on the real-time bandwagon, adopting real-time marketing into their arsenal of marketing tactics.
Real-time marketing is simple. It is about monitoring popular content emerging from the web, usually coming from social media networks or other digital media sites with instant newsfeeds and embedded marketing messages or content relevant to the trending topic.  If a real-time marketing campaign has successfully engaged its targeted audience then the benefits can be measured by the organic growth to your venture's social following on Twitter or the like, or the increase of web traffic to your company's website.
Recently, organizations have been flexing their real-time marketing technique muscles to design social promotions with content that reaches their targeted audiences and allows them to participate in trending topics. Social media tools allow people to engage socially about various topics, particularly ones that are current. So why can't organizations do the same?
Real-Time Marketing Means Dunking in the Dark
In an illustrious example, last year, a little over 100 million Americans were watching the Super Bowl when suddenly the stadium experienced a power outage. Almost instantaneously, online chatter broke out, catching the attention of Oreo's (yes, the cookie) brand managers.  The team was tracking newsfeeds from customized social media dashboards. Within minutes, the team produced a tweet, "'Power out? No problem" and attached an image with a slogan saying, "You can still dunk in the dark." That tweet, or should I say "dunk," generated 15,000 re-tweets on Twitter, and 5,500 shares and 19K likes on Facebook—quite the social promotion.
How Real-Time Marketing Can Impact a Startup's ROI
Real-time marketing gives organizations a unique opportunity to communicate to its target audience, quickly and (if done correctly) loudly.  This brief moment can give your startup a chance to make a splash larger than your current identity.  Startups have the added advantage of being small and nimble, and with a little planning, implementing a real-time marketing program becomes a cost-effective way to grow your brand.  You can use real-time marketing for purposes such as:
Establishing your company's tone and voice by taking a stance on trending topics
Leveraging news stories to re-promote recent blog posts or other content
Engaging influencers who are sharing their pain points that your product can help solve
Managing Real-Time Marketing
Social media is what makes it possible for real-time marketing to occur.  By pairing social media technology with real-time marketing techniques, a startup can increase its brand awareness and advance its influence and reach.  In comparison with big brands that have to navigate approvals for real-time responses, startups can and should leverage their ability to be agile—producing real-time content with less red tape and faster response time. Just like anything else, real-time social promotion efforts need nurturing—and a starting point.  Engaging your target audience with real-time content requires developing a set of guidelines to ensure the program flows smoothly and efficiently.
Here is a few basic steps to follow:
Learn to listen. Monitor the web to learn the content trends by using free social media monitoring tools.
Become an anticipator. Understand that not all real-time marketing content can be planned—and often the best is not.  Keep an eye out for upcoming events that could be used to generate buzz for your company, but stay open to the possibility that opportunity can come at any time.
Give trust internally. Whether your marketing team consists of one individual or multiple, empower them to execute real-time content.  Make some decisions as to what topic categories require your approval, which are off the table completely, and which should trigger you're your marketing team off to execute freely.  Work together to create a template for developing real-time content that supports your brand message and can act as a guide.
Don't Forget to Measure. Recognizing the monetary worth of your content comes from analyzing the real-time data that is derived from social media networks.  In other words, track your content's elevation online and gauge its success based on ROI constructed from web traffic to your site for example.  Learn from it to determine the best path forward.
Real-time social promotion offers a low-cost marketing opportunity for startups to engage your target audience while they are active on social media networks.  When a relevant discussion is taking place among your target audience, it is important to be part of the conversation.  This rule now applies to real-time conversations that are happening online.
For more information or questions on how to engage with your target audience in real-time, contact us today!