Search engine optimization (SEO) can sometimes be viewed by senior executives as a mystery. It's something all businesses "need" and combines keywords, meta tags, and content to impact where your website and other online channels show up on Google and other search engines. It's a function of marketing, but one that "may or may not" contribute to generating leads. That line of thinking can lead to deciding it's not worth investing in SEO. And that's 100% wrong.
Did you know? Organic results are 8.5x more likely to be clicked on than paid search results. (Source: Enquisite)
SEO is not only a vital part of generating B2B sales leads, but it's arguably the most significant weapon in the entire arsenal of marketing activities. Here are the three primary reasons B2B companies must invest in SEO
Great SEO Ensures You "Make the List"
According to CEB, 57% of the purchase decision is complete before a customer's first contact with a supplier. Research from SiriusDecisions proves that 67% of the B2B buyer's journey is done digitally. Of the 94% of B2B buyers who do some form of online research, 77% of them use Google search and 84.3% check business websites. Here's what those stats mean:
B2B buyers use search to find companies and products and they do so without you even knowing they are actively looking to solve a problem.
If a company is searching for a solution like yours, but you do not appear in their search results, you are not in the choice set.
Sure, you may get on their list because they already know of you, or a peer has recommended you, but those are factors out of your control. Appearing in their search results is, however, largely controllable. So the question is: can you afford to not appear in initial search results?
SEO Helps to Reach Different Buyers in the Buying Cycle
The B2B buying cycle is often long and complex, and can involve many different people. One person may do the initial research to compile the list of solutions to look into, and other people may take a deeper dive into specific solutions and how they fit with the company's need. Often there's an executive taking a quick look at the higher level value proposition. There may also be someone who's not on board with the decision and is looking for reasons to not buy a specific solution.
All of those different buyers are likely performing some type of search to find the information he or she needs for his or her role in the buying cycle. SEO can help you to make sure the content you have available for each one of those buyers can be found easily.
SEO Delivers Good ROI
Compared to other marketing activities (email marketing, exhibiting at tradeshows, hosting webinars), SEO is fairly cost-effective. An Econsultancy survey found that marketers spend equal parts of their budget on email marketing as they do SEO, but in general, leads generated from SEO are of higher quality and have a higher conversion rate. SearchEngine Journal reports that SEO leads have a 14.6% close rate, while outbound leads have a 1.7% close rate.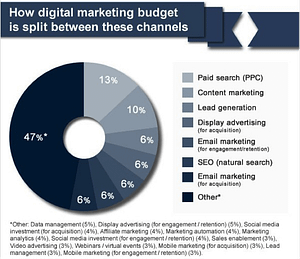 (Source: Econsultancy)
All told, SEO helps get B2B companies on "the list" as buyers research solutions, plays a role in converting different types of buyers in the B2B buying process, is cost effective and has a high conversion rate. SEO is not a "nice to have" – it's a vital component to increasing sales.
But, keep in mind that SEO is not a one-off effort, it's an ongoing process that should be a part of your strategic focus. It's also complex and takes time and effort to implement, but the pay-off just may be Page 1.