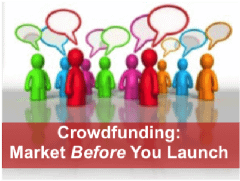 Set Yourself up for Crowdfunding Success: Getting Ready to Launch Your Campaign
Asking someone to believe in and support your dream is never easy, but it's essential for most entrepreneurs.  For crowdfunding campaigns in particular, it is the path to success.  Many entrepreneurs have turned to crowdfunding to help in launching their startup and getting their vision off the ground. Crowdfunding has become a popular alternative for raising institutional funds because you can raise small amounts of money from many people at once, and the examples of companies who've grown their startup project into successful companies are becoming a far more frequent occurrence.  In one well-known example, last year Pebble raised a record-breaking $10 million from Kickstarter, one of the better known crowdfunding platforms, to launch a smartwatch that syncs with a smartphone device to do some really neat things. Platforms like Kickstarter and Indiegogo have become well frequented in the startup community, as well as the population at large.  Niche crowdfunding platforms are growing in strength and numbers with sties like Appbackr for mobile apps and Boston's very own Dragon Innovation geared towards hardware startups.
Building for Success
Priming your campaign for crowdfunding success is a lot like surfing.  Surfing is about choosing a good day with strong, predictable waves, and learning to be able to catch the right wave at precisely the right moment.  Launching a successful crowdfunding campaign for your startup entails first choosing the best time to launch.  Unfortunately, many startups make the mistake of considering their crowdfunding launch date their marketing launch date.  In reality, it's important to choose the timing for the campaign based on already having accomplished the promotional milestones needed for a successful campaign, as well as taking into account any seasonal demand for your product.
Beth MacDonald, Vice President of Marketing at Dragon Innovation, a crowdfunding platform for hardware ventures, shares her insights, noting that "mobilizing your network of friends, family, and business associates before launching your crowdfunding campaign is crucial." Beth believes, "it's a matter of finding the right supporters and enthusiasts to promote your product, leveraging the social media channels that will drive traffic to your page, and experimenting with the right incentives and promotions to help you reach your goals."
 Crowdfunding Success: 3 Tactics to Hit the Ground Running
Preparing for a crowdfunding campaign can be daunting—especially when you don't have a marketing expert on the team.  However, whether you choose to bring in outside marketing support or opt to learn the ropes yourself, following a few foundational steps helps set yourself up for success.
Molly Levitt, co-founder of BrightLoop, a Boston-based educational technology startup that works to improve teacher workflow, recently launched her first Kickstarter campaign and shares some of her learnings. "Crowdfunding forces you to understand your market very quickly and test out different approaches to find out what works for you.  Throughout the process, you need to create and re-evaluate your marketing plan frequently," Molly said. "This is a challenge with an inherent benefit, and whether you succeed or fail, the lessons you learn during crowdfunding are very important for the next steps of your company or product."
Consider these basic guidelines for building your crowdfunding campaign.
1)     Launch your PR efforts ahead of the campaign:
A good PR campaign strategy involves building a story that understands market sentiment while being newsworthy and simultaneously targeting specific media channels who will care about the campaign (and hopefully help advocate on your behalf).  Ideally, your PR effort should start a few months prior to launching a crowdfunding campaign so that you are building authentic relationships with interested press.  Brush up on your PR 101 skills and put your plan into action.
"If you do not have experience with PR, it is a good idea to seek help from a consultant or agency," Macdonald states.  You'll want to start pitching the press ahead of time but only have them hit the public once you are live in order to drive traffic to your campaign."  Regardless of how you choose to execute, you'll want the media relationships and the plan in place prior to launch.  Journalists can become some of the greatest advocates for your campaign, but they will also see right through your requests if they feel that you're only reaching out on a superficial level.  They want to cover stories that draw in their readers, so you really need to build your messaging with an outside in mentality.
Consider applying the 80/20 rule explained by Tim Ferriss in his infamous "Hacking Kickstarter" post to find that 20% of stories will yield 80% of your press results.  As one startup's example, a week into Soma's Kickstarter campaign, its team discovered that www.good.is, which belongs to GOOD magazine, contributed the greatest funds to its campaign because of the audience relevance and a single strong introduction to Soma in a flagship story.
2)     Get your marketing infrastructure in order:
If you don't already have one in place, consider using an email marketing tool such as MailChimp or Constant Contact to help you manage your email campaigns.  Draft email and social media messages beforehand to reach supporters directly.  Also, make sure your website is aligned with your crowdfunding campaign by making the crowdfunding campaign front and center like BrightLoop has done with its site.  Create landing pages that make it easy to share and promote the campaign, as described by Tim Ferriss' post.
3)     Activate Your Network:
Engaging your supporters and keeping them updated involves creating a robust network on social media prior to your launch, as well as a plan for which segments to engage when and how.  It can be helpful to break apart your network into segments based on their interests, needs, and likelihood of their level of interest and participation.  For example, a segment could include:
Friends & Family
Former Coworkers, Acquaintances, and the 'anybody-else-you've-ever-networked-with'
'Friendly' influencers
True target customers
Have your social media efforts up and running a few months before you launch to ensure your presence is up to par with your campaign needs well before the launch date.  Ensure your email list is comprehensive and that you indeed have contact information for everyone you wish to engage.
Ready, set…
The tactics above are just the basics—the idea is that you should take the time to engage your audience and reward them with incentives for pledging their support to you.  Don't be afraid to think outside the box. Host an event and invite everyone you know.  Hire an intern army to blanket the social ecosystem.  Rent a blimp to fly over your hometown (okay, maybe not the last one, but you get the point).
Your crowdfunding campaign should be fun (a lot of work, but fun nonetheless); having a solid plan in place and engaging regularly with your supporters will help you realize an enjoyable and successful campaign.
If you are planning a crowdfunding campaign on your own and may need some help, contact Magnetude for a complimentary Crowdfunding Consultation